PRODUCT DESCRIPTION
The classic Tennis Bracelet gets a modern makeover with the Match Point Rainbow Bracelet. Whether dressed up or dressed down, it will truly be the perfect pop of color you've been looking for. 
We absolutely love this contemporary take on a classic piece of timeless jewelry. The Match Point Rainbow Bracelet features a mesmerizing row of bezel set multi-color cubic zirconia that will, without a doubt, leave a lasting smile on your face. 
Gold Vermeil
Sterling Silver
Multi Color Cubic Zirconia
Bezel Set
Clasp Closure 
Bracelet measures approx. 6.5" 
Sometimes the daintiest pieces make the biggest impact. The Match Point Rainbow Bracelet is no exception. Browse our selection of on-trend bracelets, shop our Insta feed, and catch up on our latest blog post. 
Customer Reviews
11/07/2021
Betsy S.

United States
Cute and colorful
The packaging for this items is great. The fushia jewelry pouch is extra. The design of the bracelet itself was exactly what I was looking for... the colorful stones are dainty and sparkly. My only minor complaint and hence, the four stars... is the latch. Despite the slide in and double lever closure, I have already managed to lose the bracelet once. Luckily, it fell off into my tote bag. I have only worn this bracelet 1/2 dozen times since I got it. Hopefully, it won't fall off again.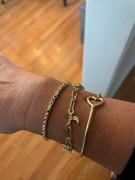 Thrilled you love it Betsy! Please let us check on your latch so this doesn't happen again. Please email us so we can set up a repair! XOXO, Jn